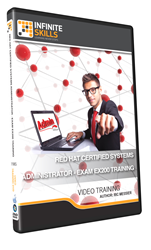 (PRWEB) August 13, 2014
Software training firm Infinite Skills Inc. last week introduced its "Red Hat Certified System Administrator – Exam EX200 Training," a fundamentals course teaching essential skills in Red Hat operation and administration, offering a complement of practice-based lessons structured around Red Hat's published objectives for achieving certification.
Red Hat is a Linux-based software company that provides a commercially supported array of software products, including its flagship operating system Red Hat Enterprise Linux, based on the Linux open-source kernel. The company operates partly on the open code model, facilitating development and community interaction, while selling the support, training, and integration services that help customers implement and optimize open-source software.
Infinite Skills' "Red Hat Certified System Administrator – EX200 Training" is designed both for new Red Hat users and experienced users seeking to validate their skills for the professional marketplace by passing the entry-level Red Hat administration exam.
Red Hat Certified System Administrator – Exam EX200 Training Video – Streaming Tutorial
Course author Ric Messier is a computer security professional with decades of experience helping large, global companies secure their data and software systems. He has been using Linux and its Unix predecessors for more than 30 years. In addition to running a network security consulting company, Messier teaches network security at the college level and SPIP compliance at the postgraduate level at Brandeis University.
Here, Messier follows the published objectives for attaining the System Administrator certification. Since the exam is practice-based, the course is devoted to hands-on projects, helping students develop their understanding of the operating system through experimentation and solving real-world problems.
After introducing Red Hat fundamentals, including basic shell commands, users, passwords, and groups, Messier goes in-depth with the Red Hat shell, explaining file management, archiving and compression, and other essentials.
The course continues with system management, where students learn booting and rebooting, working with run levels, process management, and network services management. The following two chapters then cover storage management and server management, exploring the fundamental concepts in using Red Hat to configure and maintain volumes and networks.
The course concludes with chapters covering accessing remote systems and managing Red Hat security.
"The exam for Red Hat Certified System Administrator is a practical exam format," Messier explains, "so you'll sit at the exam actually doing the work instead of explaining or answering questions."
"You'll be expected to know details about how Red Hat operates and how you would manage it," he continues. "The exam doesn't require a lot of experience, but you need to have some hands on experience with Red Hat or Centos, which is provided in the course."
Free demo videos and a full list of course contents can be found on the "Red Hat Certified System Administrator – Exam EX200 Training" page on the company website.
http://www.infiniteskills.com/training/red-hat-certified-system-administrator-exam-ex200-training.html
Infinite Skills offers its "Red Hat Certified System Administrator – Exam EX200 Training" either as a DVD or a direct download from the company website at a retail price of $ 99.95, or as part of its subscription streaming service available at a rate of $ 25 per month. Though the compatibility of programs varies, all Infinite Skills titles and formats work on both Mac and Windows operating systems, and shipping is available around the globe. Additionally, Infinite Skills tutorials are supported by project files which correspond to examples in the videos.
About Infinite Skills Inc.
A leader in the field of software training, Infinite Skills designs its courses on a task-oriented model, teaching complex skills by providing hands-on examples and guiding users as they carry out essential functions. Infinite Skills offers a wide range of software titles available as DVDs, digital downloads, and in iPad editions. Infinite Skills now offers a subscription service, providing access to all its training content for a monthly fee, keeping with company's aim of delivering professional training to customers anywhere they want to learn.